As I was Scanning These Photos each one had a little story about the Ed Carman family. Once again I will try to put the explanation that is on the back of the photo's along side of it. Also by clicking on one of these thumbnail Photo's you can enlarge them.

This one is Labeled PA and MA

This Homestead first established by Grandpa and Grandma Jenkins arriving by covered wagon drawn by Oxen in July of 1878. This house was built later.

Ed called his farm Elmada Farm After
Elmore Jenkins (Grandpa Jenkins) former settler and owner of Elmada Farm.

This photo is Ma and Pa with the Girls,
Irene Mildred and Lucille in the middle.

Pa's Champion Herd

Sir Dorsey Segis Mercedes
3 Year Grand Champion
Crookston Winter Shows 1926

Pa also liked to
Hunt and fish this
photo is Pa after
successful Bird Hunt.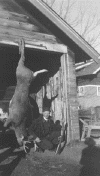 Pa's Deer in 1942
I have the antlers
for this one.