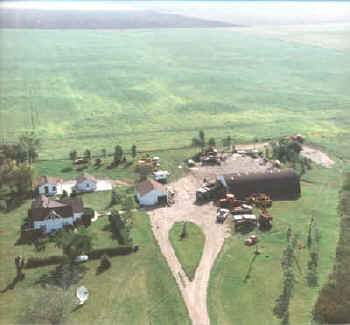 The Maring Farm Has Been Sold.
AJ and Jessica Anderson Have Purchased it.
We are moving closer to most of the land I farm. This was a spur of the moment decision so we haven't had a chance to get many photos. I really hate to sell this farm but don't need 2 farmsteads. We had a new very efficient gas furnace installed a couple of years ago and also insulated and sided the older part of the house. It is very easy to heat. The carpet is very close to new and so is the wall covering. The well is good and we have a good water softener. The garage was sided 3 years ago and a new door and opener was installed. The shop is what I will really miss it is a 36x72 Quonset that is insulated, and heated It also has air conditioning if needed. Last winter I built an 16x20 office inside the shop.
We have installed direcway satellite high speed internet and it would go with the house if you would use it.
The farm is located 20 minutes north of Moorhead. From Georgetown it is 4 miles east and 3 and 3/4 North.
Address is 19712 40th St. North Georgetown MN
Call Mark at 218-494-3796 or 218-790-8390